Central African Regional Representative Mr. Eric Serge Yakeu Djiam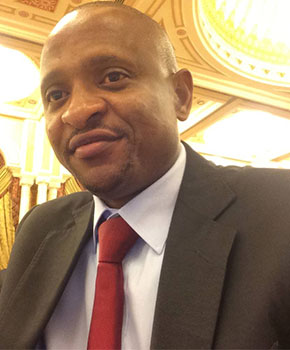 Serge Eric Yakeu Djiam is the Central African Regional Representative at the African Policy Centre, as well as the Cameroun Country Representative. Serge Eric is fully bilingual (French & English) with about 17 years of professional experience which cover international evaluation experience, national and international agricultural research, international academic and training experience with research institutions, UN agencies (IFAD & FAO), NGOs, firms and universities in several countries worldwide (Africa, Asia, Europe, Middle East, and North America). His background covers mainly a B.Sc. in Biochemistry major in human nutrition and an Engineer Diploma in Agricultural economics, an International Certificate in planning and development evaluation (Canada), a Double International M.Sc. in Rural development (Belgium, Netherlands, Italy, Germany and France) in project design and management, Agricultural policy, planning and evaluation, Agricultural economics and extension, Environmental economics, participatory research methodology and statistics, data analysis, Natural resources management, community development, econometrics and financial analysis. He is currently working with a team on a project called "Evaluation that make a difference" (www.evaluationstories.wordpress.com). He has the Advanced Security in the Field and the Basic Security in the Field Certificates from the UN Department of Safety and Security.

He masters various statistical softwares and new technologies. He has written a book, training materials, several reports and articles and can easily develop summative reports and restitutions. He has participated in various conferences/seminars /symposium and chaired panels/sessions in monitoring and evaluation, agricultural research, research methodology and statistics, and related topics worldwide. As President, he supervised and chaired the 2014 AfrEA International Evaluation Conference in Yaounde, Cameroon with over 550 participants under the theme "Evaluation for Development: From Analysis to Impact".
BECOME A MEMBER
By becoming members of the African Policy Centre, development practitioners demonstrate their commitment to the evaluation profession, they also receive a number of substantial tangible benefits.
We offer a comprehensive on-line research facility, with downloadable documents and publications, and a facility for answering questions you may have.