APC Treasurer - Dolly Margaret Achieng'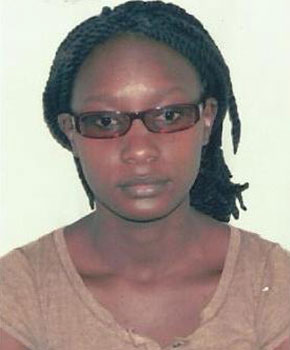 Dolly Margaret Achieng' Hwaga, is the Treasurer at the African Policy Centre. She holds a Bachelor of Science Degree in Management of Agroecosystems & Environment, from the University of Nairobi's Upper Kabete Campus, College of Agriculture and Veterinary Sciences. She is the Deputy Director in charge of Environment and Agricultural Policy at the African Policy Centre. Precently, Dolly is working for the National Environmental Management Authority (NEMA) in Kenya, based in the Western Kenya region. She has been involved extensively in advisory roles and advocacy for implementation of environmental policies at the grassroots in Kenya. She is an Associate Expert in Environmental Impact Assessment and Environmental Audit. Dolly has worked with the Ministry of Agriculture in Vihiga Division, Western Kenya, in the implementation of NALEP and PAPOLD Programs in 2010. She has also worked with Maasai Rural Training Center as environmental and natural resource advisor to the ranch. In 2013 she was part of research team on food safety awareness in Ngong' market, a University of Nairobi, Department of Agricultural Economics initiative.
BECOME A MEMBER
By becoming members of the African Policy Centre, development practitioners demonstrate their commitment to the evaluation profession, they also receive a number of substantial tangible benefits.
We offer a comprehensive on-line research facility, with downloadable documents and publications, and a facility for answering questions you may have.